Shop
Each order is subject to a £2.50 Postage & Packing charge.
CODEX ALIMENTARIUS:
Global Food Imperialism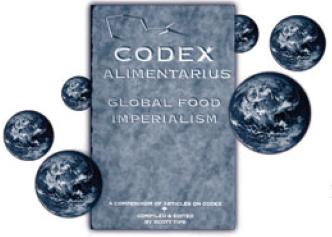 A compendium of articles on Codex compiled and edited by Scott Tips, president of the National Health Federation.
* Why does an obscure rule-making process called Codex Alimentarius hold the keys to your health
* Why have health-freedom fighters been challenging this process?
* Who stands to gain the most once Codex Rules are implemented?
* How does the Codex process fit into the web of international treaties being woven around us?
* How is Codex helping to promote the globalization agenda?
* Why is the mainstream media strangely silent about Codex?
* What do you need to know now to protect yourself and your health?
Through the insightful articles written by a handful of health-freedom fighters who have actually researched, studied, and spoken out at Codex meetings, this first-of-its-kind collection of articles on Codex will help answer these questions and more.
The book is available hand-signed by Scott, for an extra donation of £5!
HEALTH FREEDOM NEWS MAGAZINE
Edited by our president, Scott Tips. Our magazine contains feature articles on: Latest methods of alternative healing, Threats to health, Vaccinations, Fluoridation, Mercury fillings, Codex, Aspartame, Environmental toxins, Violations of freedom by FDA raids on doctors, Nutrition centres & makers of nutrition , Health products, and more
You may purchase the current issue of Health Freedom News magazine here:
You may purchase a back issue of Health Freedom News magazine here (please contact us first for availability!):
Here is a selection of some of the issues we have in stock:
NHF JUTE BAG
| | |
| --- | --- |
| | Lovely large and sturdy navy coloured shopping bag made from pure jute with strong bamboo handles. This great bag is ideal for the eco-friendly shopper! Jute is an extremely environmentally friendly and sustainable plant. |
Thank you! All proceeds go to the National Health Federation so your purchase has made a real difference.